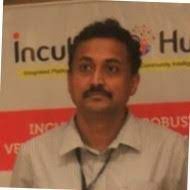 Ask the innovator series is an interactive series we run at CLIMAFIX that derives key insights from corporate innovators who provides platform to support startups and corporates.
This series is done as part of the CLIMAFIX Summit 2023, India's largest climate startup summit, organized by CLIMAFIX & Energy Consortium – IIT Madras.
In this post, we have Pradeep V of Incubate Hub sharing his perspectives.
CLIMAFIX thanks Pradeep for his valuable inputs.
What are the top 3 best practices medium and large corporates can use to leverage the entrepreneurial and innovative talent available within their human resources?
Corporates are increasingly recognizing the value of entrepreneurial talent and are finding ways to leverage it to drive innovation, growth, and competitive advantage. This trend has led to the development of various strategies and approaches for integrating entrepreneurial thinking and practices within established corporate structures.
Here are some ways that corporates are leveraging entrepreneurial talent:
1. Ideation (Intrapreneurship): Intrapreneurship refers to the practice of fostering an entrepreneurial spirit within the existing workforce. Corporations create an environment where employees are encouraged to develop and pursue innovative ideas within the company. This can lead to the creation of new products, services, or processes that drive growth.
2. Venture Building (Corporate Venture Studio): Strategic initiative adopted by established corporations to identify white spaces, build & spin off new businesses to tap into emerging market opportunities. Corporates leverage internal entrepreneurial talent, resources, and expertise to create and grow new ventures.
3. Cocreation (Open Innovation): Corporates are opening up their innovation processes by collaborating with the external innovation ecosystem. This approach allows them to bring together internal entrepreneurial talent and external innovation ecosystem together to jointly explore and build new products or businesses.